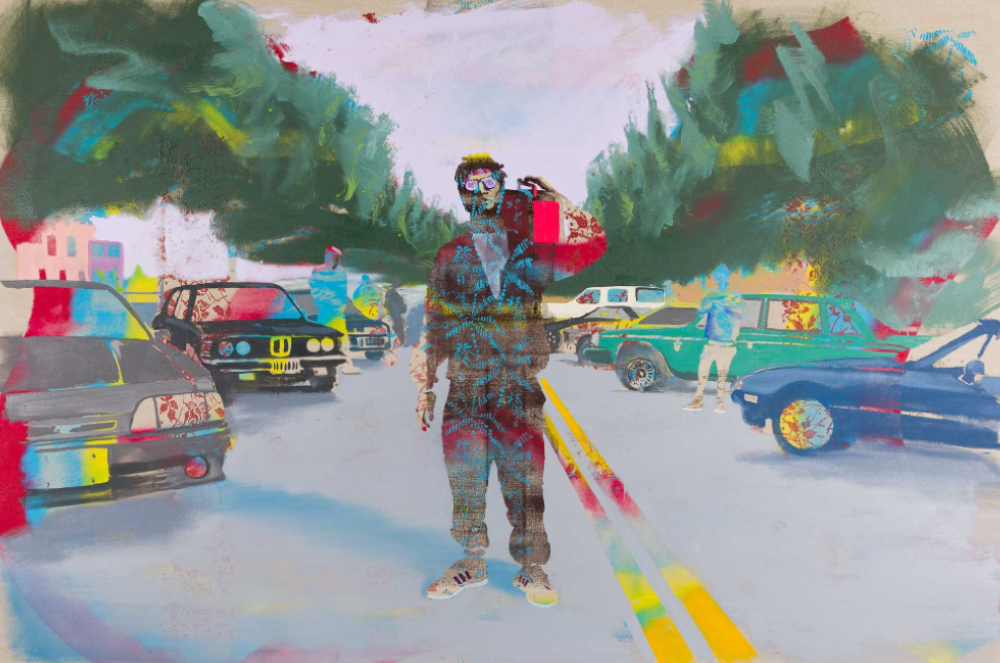 Before my scholarship with the arts and culture team at WBUR, I worked as an intern with the iLab for the podcast Endless wire. There, I learned that host Amory Sivertson is also a talented singer. This weekend, she will be playing independent folk music as part of Brookline's Porchfest. (You can get a taste of his music here. My favorite song is "Walk in the Woods".) Aside from Porchfest, I've rounded up several other events to check out this weekend, including a new exhibit by self-exploration gallery, documentary play, musical performance and arts and music festival on Spectacle Island.
Until Thursday November 11
The Childs Gallery presents a new exhibition, "Retro Pictures", the second solo exhibition of artist Andrew Fish. In the exhibition, Fish explores the transition from childhood to adulthood as a member of Generation X. He references iconic objects that helped him become what he is today, like Air Jordans, Boomboxes and BMX bikes. You can also find sculptural pieces that blend in with his paintings that incorporate old pieces of technology, maps, and bike parts.
---
Friday Sept. 17-Sunday Sept. 19
The Newton Theater Company presents "Twilight: Los Angeles, 1992" by Anna Deavere Smith. The play takes a deep dive into the 1992 Los Angeles uprising that took place after the police beating trial of Rodney King and includes direct quotes from those who lived through the event. Although it is set almost 30 years ago, the topics covered by the play – race, class, and access – are still relevant today. The production will be staged outside at the Hyde Community Center Bandshell in Newton.
---
Friday September 17th
The circle of life is one in which we experience many emotions. This performance by the A Far Cry ensemble links emotions through music. As the concert progresses you will hear lullabies, starting with Béla Bartók "For the Children", then transitions to Antonín Dvořák's iconic "Serenade of Strings" and ending with the third movement of the song. String quartet op. 135. With a few other pieces scattered in between. The event will take place at the Jordan Hall of the New England Conservatory, and due to COVID-19, the capacity has been reduced. However, there are also online tickets available for virtual access.
---
Saturday September 18
Brookline's sixth annual Porchfest is taking place this weekend, and if you've been there before, you know that means there will be music from multiple porches all day long. Get ready for a festival that will cover genres, and maybe even introduce you to some you've never heard before – standards like folk and jazz, flamenco, motown, hip-hop and music. surf rock. Print programs will be available at Brookline Booksmith, Brookline Music School and Brookline Village Library. In case of bad weather there will be a rain date for Sunday September 19th.
---
Saturday September 18
Soulful Bliss: Arts and Music Festival will bring BIPOC artists to Spectacle Island for an evening full of music and fun. The inaugural Boston Harbor Now and AfroDesiaCity event will be hosted by Amanda Shea and feature live music from JB & Friends and Shantel C Music. The ticket includes the ferry ride to the island from Boston, a cardio dance class with TRILLFIT, and s'mores on the beach. Night Shift Brewing will sell drinks and Brato Brewhouse + Kitchen will sell snacks and wraps throughout the event.