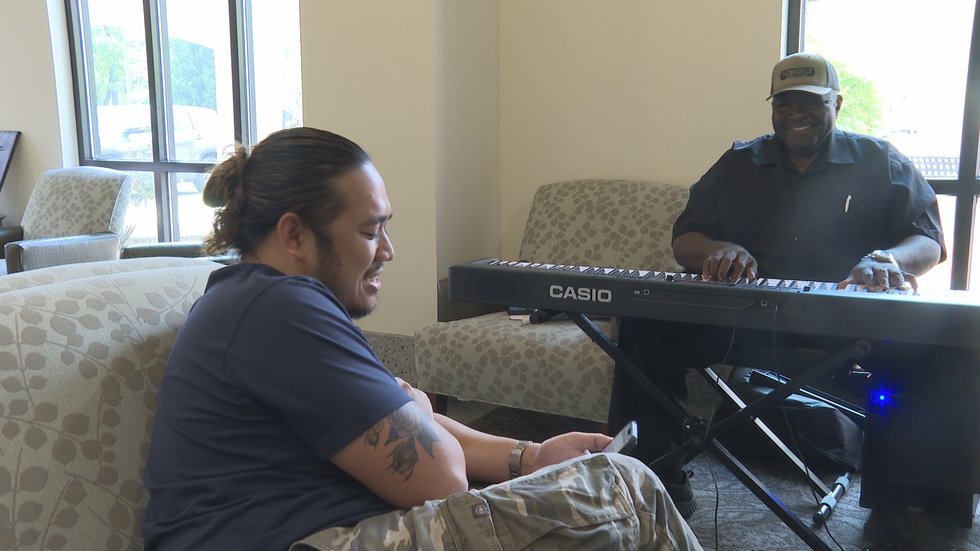 THOMASVILLE, Ga. (WCTV) – It was a chance encounter that brought these two strangers together. Henry Yuma is a wedding singer and James Banks is a retired pastor and biologist.
The two were seen jamming together in the lobby of the Lewis Hall Singletary Oncology Center in Thomasville.
Yuma has just moved to the area from the Philippines. He accompanied his wife, who beat breast cancer a few years ago, for a doctor's appointment at the oncology center. This is where Henry says he is captivated by the soft jazz melody coming from the hall.
"I sat here watching TV, I closed my eyes just listening to his music. He said 'Do you know the song' and I asked him 'Do you know Stevie Wonder?' That's how it went," Yuma said.
Yuma says music has a way of bringing people together, and when played from the heart, it can heal.
"I know patients and everyone here relax when they hear it. Everyone who suffers will forget their problems and their pain if they hear good music," he said.
After battling cancer himself, Pastor James Banks said he wanted to do something to help others through treatment like he did.
"On March 24, I completed my last treatment of 40 rounds of radiation," Banks said. "As I walked through the hall every day, I saw the people and I saw their faces, they seemed somewhat downcast and I wanted them to understand that there is hope."
Banks asked the oncology staff if they could come back to the center and play some music in the lobby. Once approved, he first settled on March 28, just a day before Henry and his wife visited.
"When I rang the bell of hope, I just decided that if I couldn't do anything else, I would bring this gift of music," Banks said.
It was an encounter they didn't expect, but one they both say they will never forget.
"He's a great guy. I just met him, but he's already a longtime friend of mine," Banks said.
Copyright 2022 WCTV. All rights reserved.