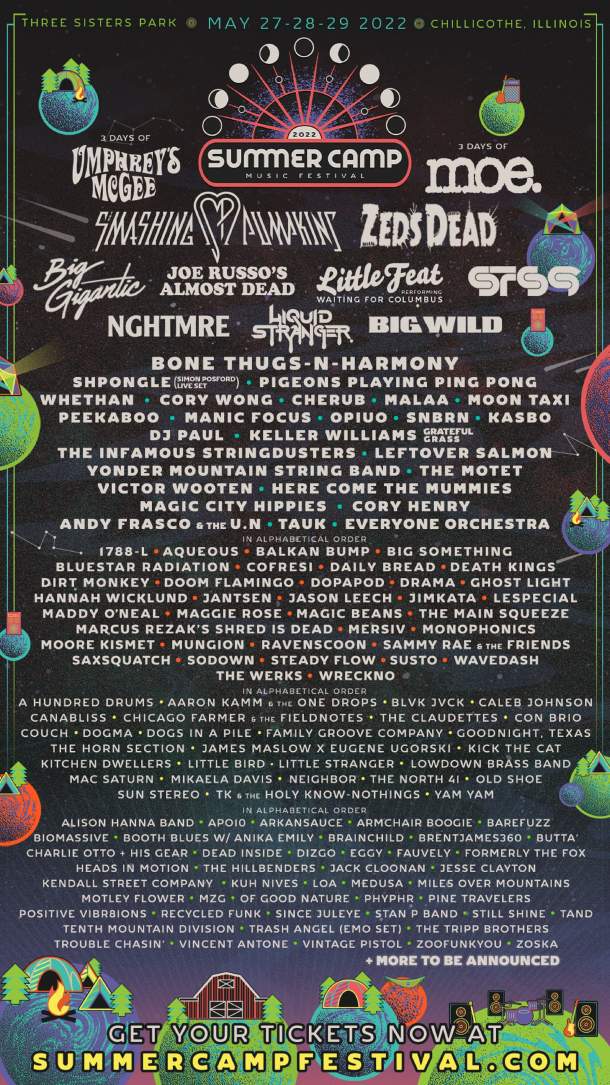 For their third round of artist announcements, Summer Camp Music Festival welcomes Big Gigantic, SNBRN, fan-favorite DJ Paul (Three Six Mafia), Magic City Hippies and a host of other great artists performing this Memorial Day weekend. This latest announcement caps off a week of exciting festival news, including the lineup release and Sunday 1 Day tickets going on sale, the Founders VIP Lounge lineup, Thursday pre-party performers and finally, the Get Involved apps for programming in the Soulshine Tent, SOULPATCH Interactive Garden, Field Day and more!
List of current artists
The Smashing Pumpkins
me.
McGee of Umphrey
Zed is dead
Big Gigantic
Joe Russo is almost dead
small feat
STS9
NIGHT
liquid stranger
great savage
Bone Thugs-N-Harmony
Shpongle (Simon Posford Live Set)
Pigeons playing ping pong
that
Cory Wang
Cherub
Malaa
Lunar taxi
Hello
Manic Focus
OPIUO
SNBRN
Kasbo
DJ PAUL
Grateful Grass by Keller Williams with The Hillbenders
The Infamous Stringdusters
Leftover salmon
Yonder Mountain String Band
the motet
Victor Wooten
Here come the mummies
Magical Town Hippies
Cory Henry
Andy Frasco and the UN
Tauk
orchestra of all
1788-L
Aqueous
Balkan bump
big something
BlueStar Radiation
Cofresi
Daily bread
kings of death
earth monkey
doom flamingo
Dopapod
DRAMA
ghost light
Hannah Wicklund
Jantsen
Jason Leech
Jimkata
thespecial
Maddy O'Neal
Maggie Rose
magic beans
The main compression
Shred by Marcus Rezak is dead
mersiv
Monophonic
Moore Kismet
Mongion
Ravenscoon
Sammy Rae and Friends
Saxsquatch
so low
constant flow
SUTO
wavedash
The works
Wreck
A hundred drums
Aaron Kamm and The One Drops
BLVK JVCK
Caleb Johnson
canabliss
Chicago Farmer and field notes
The Claudettes
With brio
Couch
DOGMA
Dogs in a pile
Groove Family Business
good night texas
hearty har
The horn section
James Maslow x Eugene Ugorski
hit the cat
kitchen dwellers
Little bird
little stranger
Marching Band Lowdown
mac saturn
Mikaela Davis
Neighbor
The North 41
old shoe
Sun Stereo
TK & The Holy Know-Nothings
yum yum
Alison Hanna Group
APO10
Arkansauce
Boogie Armchair
BareFuzz
Biomass
Birds of a feather
Booth Blues with Anika Emily
original idea
BrentJames360
BUTTA'
Charlie Otto + his equipment
Dead inside
Dizgo
Egg
Fauvely
Formerly The Fox
Moving heads
The masters of the hill
Jack Cloonan
Jesse Clayton
Kendall Street Company
Kuh Nives
LOA
ASTONISHED
Miles above the mountains
MIXED FLOWER
MZG
good-natured
Phyphr
pine travelers
Positive vibrations
recycled funk
Since JulyEYE
Stan P band
always shine
while
Tenth Mountain Division
Trash Angel (Emo Set)
The Tripp Brothers
Trouble Chasin'
Vincent Anthony
vintage pistol
Zoofunkyou
Zoska
3-day GA passes, volunteer deposits and a limited number of VIP upgrades are available at summercampfestival.com/tickets.
TO BE INVOLVED
Summer camp is much more than music. Below are some of the ways you can get involved today. For a full list, visit our Get Involved page: summercampfestival.com/getinvolved
SOULPATCH
The SOULPATCH interactive garden is looking for collaborators! What designs and systems work for you in permaculture, natural building, sustainability and regenerative agriculture? Build it and take it to the garden to share and help your fellow SCampers learn new skills to bring back to their communities as we all work to make the world a better place. Applications are now open!
BRING YOUR ASBL
The Summer Camp Music Festival attracts a wide range of non-profit organizations that work to educate and engage festival-goers in their mission. Not-for-profit organizations have a great opportunity to gain traction and participate in their causes with festival-goers across the country. Applications are now open!
SOULSHINE WORKSHOP
Do you have a skill to share? What is your passion for life that others could benefit from? Over the years, we've housed everything from instrument making to biodiesel manufacturing, from human power to DIY art techniques. To participate in this year's workshops, please submit an application.
LIVE ART GALLERY
Painters – Show us what you got! Sign up for the Soulshine Live Art Gallery to have your artwork featured and displayed for all SCampers to see! Applications are open until April 16.
FLOW ANIMATORS
Would you like to be an integral part of organizing the magical and immersive experience that is the Summer Camp Music Festival? We are currently looking for dancers, fire artists, performers, workshop leaders, and anyone who thinks they have what it takes to support the vision and momentum of our Flow Entertainment team. Applications are open!
FIELD DAY
Summer Camp Field Day is the official color war of the festival! Battle it out in a tug of war, giant twister, dodge ball, donut contest and more! Plus, the Field Day Champions take home a victory party on Sunday at the festival. For more information and to register your team, please visit our Field Day page.
VOLUNTEER
The Summer Camp Music Festival would not be possible without the help of our General Volunteers and Green Team! Sign up to help and WIN a 3-Day GA Pass + Thursday Pre-Party Ticket. For more information, please visit: makeadifference.summercampfestival.com/volunteer