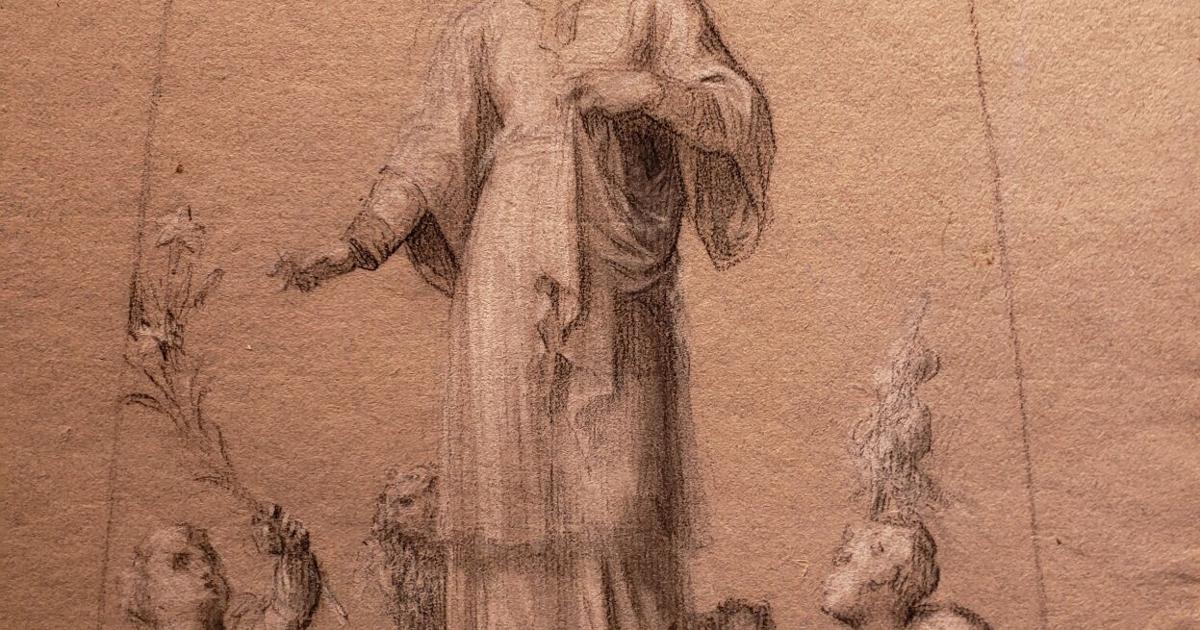 Découverte Fine Art de Rockport is once again invited to New York as part of the "Master Drawings New York 2022" exhibition, which runs until January 29 in select Manhattan galleries.
For this special event, Steven Law of Découvert has assembled works of art which he presents in the exhibition "Visions: Communion with Benevolent Spirits", presented at the Kraushaar Gallery, 15 E. 71st St. in New York .
A New York Times art critic paid tribute to "Master Drawings New York 2022" in the article "Drawing, a cure for January profanity" last week, noting that the medium is this critic's favorite.
"It's a rich time to indulge in works on paper, from the Drawing Center to 'Master Drawings New York' week," Roberta Smith wrote in her column. "Drawing is truly the best of all artistic mediums. Its history is long and encompassing, truly global, virtually limitless. It facilitates many other forms of art, among which are painting, sculpture and architecture. But the basic mark of drawing is the starting point for so many other things: the development of written language, numbers, musical scores. »
Smith wrote that the drawings bring the viewer closer to an artist's thoughts and feelings "with an intimacy that sometimes seems metabolic, they elicit spontaneous responses that can show us new sides of ourselves".
"Drawings are the great teachers," she continued. "They educate the eye and make us more aware of seeing. They exhibit visual power, relatively unbuffered by materials or size.
While the art critic wrote about the virtue of both contemporary and historical drawings, Law's gallery focuses on European drawings from the 16th to 20th centuries. The "Master Drawings" exhibition mainly presents European drawings from the 17th, 18th and 19th centuries.
Law's exhibit was conceived in part when he and his partner, Donald Stroud, cried while watching the destruction of Notre Dame Cathedral in Paris on TV.
"A friend who witnessed the fire called to us from the streets of Paris: 'We are proud to be secular, but right now every Parisian is Catholic,' he told us," Law said. "Donald and I weren't Catholic, but we understood what our friend was trying to say. During our travels, we have always sought out cathedrals, listened to concerts, experienced space, stained glass, icons, sculptures, paintings, smells, sounds and architecture. You didn't have to be religious to feel moved. We felt the same way about the designs that we hoped would represent a legacy of the sacred.
One by one, Law said, the drawings in this exhibit made themselves known to him and Stroud, through auctions, private collections, and dealers. They represent scenes from the Bible and the tradition of the saints. Some are studies, and others are preparations for ceilings, paintings, mosaics, and unknown projects. The artwork spans 400 years and comes from the Augsburg School, Italy, France and Belgium. Artists include Giovanni Ricci (1537-1627), Ercole Setti, (1530-1618), Johann Rottmayr (1656-1730) Josef Christ (1732-1788), Giovanni Delle Rovere (1575-1640), Giovanni Balducci (1560-1631 ), Pietro Novelli (1729-1804), Charles Natoire (1700-1777) and Achille Sirouy (1834-1904).
"Collectively, they represent a 'fellowship of benevolent spirits'. They whisper to the viewer to consider the extraordinary circumstances that rob humans of hope and bring us before the Mystery, uttering a prayer, yearning for an outcome beyond our control – a healing, say, or a miracle – as if the Mystery transmitted empathy, care and love; that help was never far away," Law wrote in an exposition statement.
This exhibit resonates close to Law's heart because last March, Stroud, his 45-year-old companion, passed away.
"Many of us are left speechless, worlds turned upside down, loves lost," he said.
The art experience was reason enough to risk traveling during the COVID-19 pandemic in New York City, Law said.
"The inexpressible is expressed, experienced and felt," he added. "If a person comes and is touched, recalls a hidden source of comfort and love, and feels hope, I will consider it a success."
For more information, visit www.decouvertfineart.com.
'Annie Jr.' inhabit
The YMCA at North Shore Theater presents "Annie Jr." at Manchester Essex Regional Middle School at 36 Lincoln St. in Manchester, in three performances this weekend.
Show times are Friday January 28 and Saturday January 29 at 7 p.m. and Sunday January 30 at 2 p.m.
The universal message of hope comes alive in a cast of 28, showcasing the talents of the school's students, said North Shore YMCA Director and Theater Specialist Heidi Dallin.
The story of little orphan Annie is still a favorite with children and adults alike as she perseveres in her search to find her parents and escape the cruelties of Miss Hannigan.
Georgia Bills of Beverly serves as musical director; Jenny Hersey from Manchester is stage manager; and Sarah Vandewalle from Danvers is a costume and set designer.
General admission is $15 and students are $10. Tickets are available at https://www.onthestage.tickets/show/ymca-of-the-north-shore/annie-jr-41955 and at the door.
Masks are mandatory for all members of the public aged 2 and over.
Gail McCarthy can be reached at 978-675-2706 or [email protected]