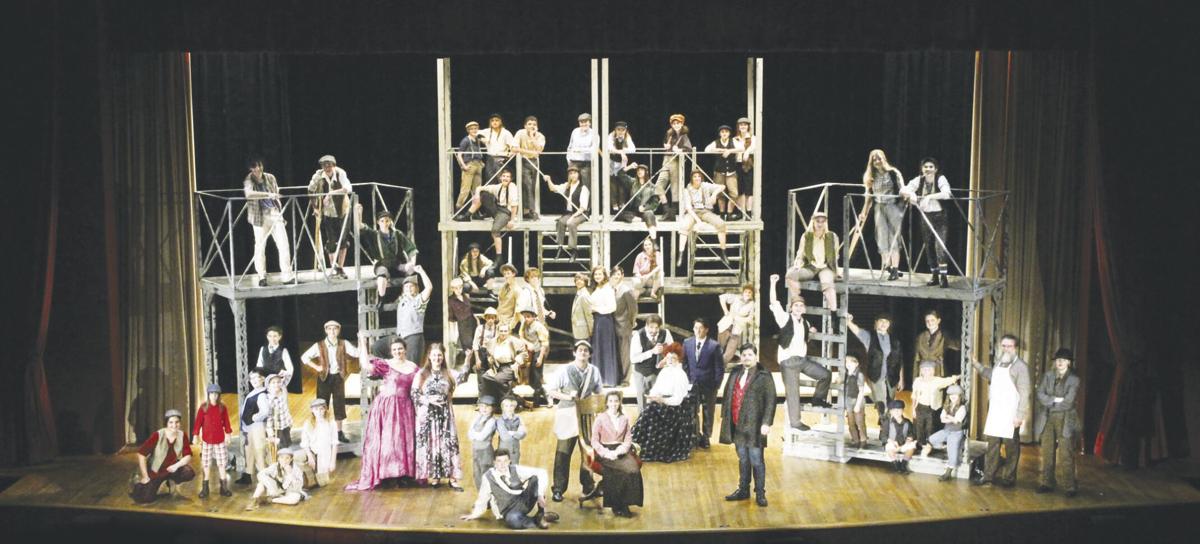 [ad_1]
By Alice Reese
Herald-Banner Contributor
"Extra! Extra!"
Meet the newspaper vendors and the girls selling publisher Joseph Pulitzer's "New York World" newspaper on the streets of the big city in "Newsies," a wild Broadway musical on stage at the City Hall of Greenville in downtown Greenville.
The Greenville Family Theater follows its incredible series of theatrical accomplishments with the presentation of a classic underdog story inspired by the newspaper vendor strike of 1899. With a huge (75-plus) cast of singers, dancers and acrobats, " Newsies "mixes romance, comedic antics and dramatic social issues in a dynamic production featuring a Tony Award-winning musical score and stunning dance numbers.
Because the Greenville Family Theater has so many talented artists, some roles have been double. For example, reporter Katherine is played by Mary Alyce Holleman as well as Makenzie Hyde. Adele Money and Alex Delgado both portray Newsie Racetrack. The triple casting allows Bobby Hale, Ella Selph and Charlie Holleman to each play young Les.
The charismatic Jack Kelly (Juan Botero) leads reporters and journalists in a strike against Pulitzer (Austin Hutson), the wealthy owner who has raised newspaper prices from 50 cents to 60 cents per 100 newspapers. Despite the newspaper's struggles with rising prices, Pulitzer is simply focused on making profits.
"But it's so hard on the kids," says Pulitzer secretary Hannah (Avery Tibboel). To make matters worse, newspaper distributor Weisel (Abigail Weimar) likes to torment newspapers with "Cash up front." New day! New price!"
As Jack, Davey (Gus Holleman), Davy Les's little brother and the other reporters are beaten up by hired bullies, Crutchie (George Holleman, Emily Collins) is attacked with the crutch and delivered to the miserable detention center known as the name of Refuge.
Katherine shows off a copy of the New York Sun front page photo with her story on the strikers, and previously demoralized reporters instantly rejoice. The title "Newsies Stop the World" inspires joy. Racetrack sings "Look at me I'm the King of New York" and is joined by the ensemble of singers and dancers.
Each musical number remains memorable: Jack's dream of "Santa Fe", the "Carry the Banner" of the TV news, the "That's Rich" of Miss Medda Larkin (Sydnee Hawkins, Rebekah Oglesby), the Bowery Beauties, Jack and Katherine "I Never Planned on You / Don't Come A-Knocking", "The World Will Know" by Jack, Davey and Crutchie, picked up by journalists, "Something to Believe In" by Jack and Katherine and the journalists' anthem "Sixteen the Day".
"Newsies" features breathtaking dance sequences and spectacular gymnastic stunts. The frenzied dance numbers reflect the time period with Irish jigs and flawless step dancing. Congratulations to choreographer Margaret Smith and her assistant Ariel Ross, as well as acroreographer Jennifer Snyder. Smith and Ross also choreographed the compelling fight scenes.
Four massive mobile structures provide an elaborate setting serving as the main setting for the "Newsies". The construction represents various places such as the newsies' shelter and its roof, Jack's "penthouse".
The steps and ladders suggest the back alleys and fire escape stairs where reporters walk away from the Delancey brothers (Quinn Lucas and Tristan Hall), henchmen and cops. In addition, the set provides "windows" in a church where nuns feed and drink newsies. Jimmy Hyde designed the set.
With "Newsies," veteran Greenville Family Theater Creative Director Amy Hale skillfully directs another challenging and thrilling Broadway show. Hale is also the musical director. Ellene Weimar conducts the orchestra.
REMARKABLE LINES:
" We are a family ! "If it's not in the newspaper, it never happened." "Welcome to my theater and to your revolution! "A gang of ragtaguffins want to face the King of New York!" "" You put yourself in the paper! "" It's so much better than school! "
"Newsies" continues at the Municipal Auditorium in Greenville Sat. July 10 at 2 p.m. and 7 p.m., Fri July 16 at 7 p.m. and Sat July 17 at 2 p.m. and 7 p.m. Tickets are available at https://showtimeatthegma.com/events/. Call 903-457-3179 or visit the GMA counter at 2821 Washington St., 8 a.m. to 5 p.m. Monday through Friday.
[ad_2]