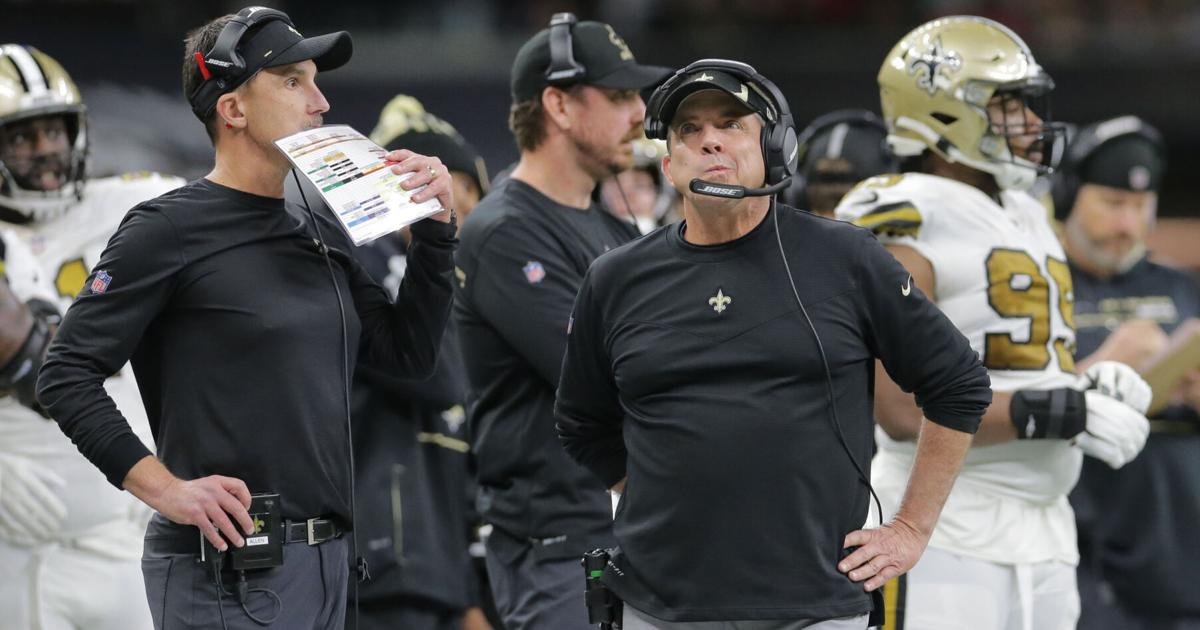 [ad_1]
It's one thing after another for the New Orleans Saints this season.
The displacement of Hurricane Ida. End-of-season injuries to wide receiver Michael Thomas, kicker Wil Lutz and quarterback Jameis Winston. The first COVID outbreak that sidelined nearly half of assistant coaches. The five-game losing streak. Lots of other injuries, like those to two starting tackles Terron Armstead and Ryan Ramczyk. Sean Payton missed last week's game against the Tampa Bay Buccaneers due to COVID-19 protocols.
Come Monday, the Saints could go without 20 players due to COVID-19 protocols, and that includes quarterbacks Taysom Hill and Trevor Siemian, linebacker Demario Davis, safety Malcolm Jenkins and Ramczyk. They will also be deprived of four assistant coaches due to their positive COVID-19 tests.
"If you're here you're getting ready to play because the situation is constantly changing," Payton told the team after Friday's visit. "We saw it change yesterday, it changed again today, and I'm sure it will change again before we play. This is the uniqueness of this season. Still, we need to prepare and be ready if you're in it. "
Technically, any of the 20 could return to the field on Monday, provided they are vaccinated, asymptomatic and return a negative COVID-19 test. Since the Saints play on Monday, they can perform line-up moves on match day, rather than the typical procedure of making Saturday trades for Sunday contests.
"There's always that chance," Payton offered of some players' return, noting players should test outside of quarantine. "It would mainly be players who entered the COVID program sooner rather than later, but I think it can happen. "
Otherwise, the Saints can raise as many training team members as there are on the COVID-19 roster and designate them as "COVID-19 substitutes." NFL teams can carry a maximum of 16 players on the practice squad.
But here is where one of the most difficult aspects of a COVID outbreak as widespread as this one lies: How do the Saints plan the game when the roster of unavailable players is constantly changing? Every player, whether on the active roster or on the training squad, should prepare as if they are playing and carrying a heavy load.
Since Sunday, all groups of posts except two have been affected by the virus: ball carriers and specialists. Meanwhile, defensive ends, quarterbacks and tight ends are reduced to just two, as defensive ends Cameron Jordan and Marcus Davenport, quarterbacks Ian Book and Blake Bortles, and tight ends Nick Vannett and Ethan Wolf (on the training team) are the last of the men to defend their respective positions.
"There are a lot of reps," Vannett said Thursday. "Dang almost taking every game in practice, which is good. It's good to have reps, it makes you feel good about everything that happens in the game plan. But yeah, that is. is weird.
Vannett has been in a similar situation before.
He played for the Denver Broncos last season during their infamous quarterback epidemic the day before a game that relegated all Denver quarterbacks to the COVID-19 roster ahead of their game against the Saints, prompting a rookie practice team receiver not drafted to serve as Broncos quarterback.
"Fortunately, we are not in this exact situation," he said. "But there are still pieces that need to be moved and still some guys who need to step up and take on those roles."
While none of the specialists are currently on the COVID-19 list, the Special Teams units are also one of the areas hardest hit by this outbreak for the Saints.
Of the six players who have played over 50% of the Saints' special teams snaps this season, four of them entered the COVID-19 roster on Thursday or Friday: Pro Bowler JT Gray, safety Jeff Heath, linebacker Kaden Elliss and running back Dwayne Washington.
"Our biggest challenge every week, regardless of COVID, is the depth chart," Special Teams Coordinator Darren Rizzi said Thursday, before he tested positive for COVID-19 on Sunday. "It's definitely like the musical chairs, who's in, who's out, dragging guys. There are a lot of moving parts.
On Thursday, Rizzi told all players on the practice squad that everyone needs to be ready to play against the Dolphins, given that the number of active players on the COVID-19 roster is greater than the number of players on the COVID-19 roster. the training team that the Saints have in their hands.
"Everyone is on the bridge right now," said Rizzi. "I want you to be ready to go. "
After the first player – tight end Juwan Johnson – was put on the COVID-19 roster on Wednesday, then interim head coach Dennis Allen said on Wednesday morning there were still concerns about the virus, especially with the environment in which the company currently finds itself.
On Wednesday afternoon, another player – tight end Adam Trautman – was on the roster. Nine more COVID cases emerged on Thursday, prompting Allen to cancel Thursday's walkthrough.
Book and cornerback Marshon Lattimore both used the word "tough" to describe the loss of those Thursday reps.
"Trying to get into a routine is tough because you can't get into the building," Book said on Friday after training. "… I needed these reps, and I told the coaches that I needed these reps step by step."
Lattimore said Thursday: "As far as work goes, it's going to be tough. But we just have to be locked up.
[ad_2]