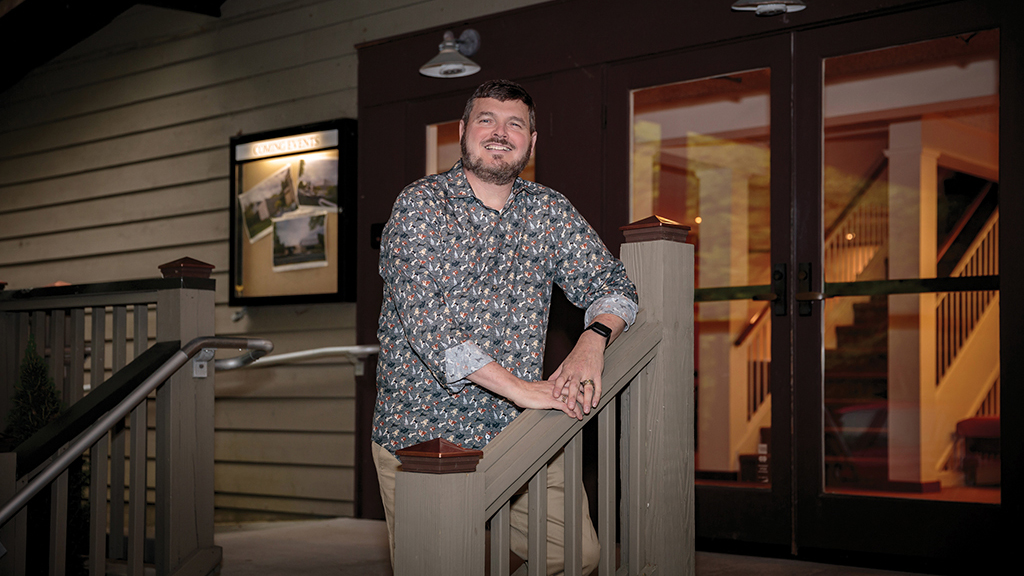 Written by: Marlène Osteen | Problem: 2021/09 – September | Photograph by: Susan renfro
Highlands-Cashiers Players tackles the issue of age – Covid-19 – with a light (yes, light) musical. The Great Pandemic – a Mystery Musical Love Story will be presented at the Highlands Performing Arts Center, October 14-17 and 21-24. For more information, visit highlandsperformingarts.com/hcp.
---
LnRiLWNvbnRhaW5lcltkYXRhLXRvb2xzZXQtYmxvY2tzLWNvbnRhaW5lcj0iMGQxNDkzYzBjZWM1YzQyMmRiMzNlOTc2NmZjYTFmZDciXSB7IHBhZGRpbmc6IDEwcHggNDBweCAxMHB4IDQwcHg7IH0gLnRiLWNvbnRhaW5lcltkYXRhLXRvb2xzZXQtYmxvY2tzLWNvbnRhaW5lcj0iZWQzODMyYWE2MjAxY2JlYzViMWU1YjkwMmRjMDY3ZTIiXSB7IHBhZGRpbmc6IDI1cHg7IH0gLnRiLWJ1dHRvbltkYXRhLXRvb2xzZXQtYmxvY2tzLWJ1dHRvbj0iZTVkMGMwYWZjZWM1ZWRiOTA5MWEwMGU3Zjc2ZmJjODkiXSAudGItYnV0dG9uX19saW5rIHsgYmFja2dyb3VuZC1jb2xvcjogcmdiYSggMTU5LCA4MiwgNTcsIDEgKTtib3JkZXItcmFkaXVzOiAwO2NvbG9yOiByZ2JhKCAyNTUsIDI1NSwgMjU1LCAxICk7Zm9udC1zaXplOiAxMnB4O2xpbmUtaGVpZ2h0OiAxMHB4O3RleHQtdHJhbnNmb3JtOiB1cHBlcmNhc2U7Y29sb3I6IHJnYmEoIDI1NSwgMjU1LCAyNTUsIDEgKTsgfSAudGItYnV0dG9uW2RhdGEtdG9vbHNldC1ibG9ja3MtYnV0dG9uPSJlNWQwYzBhZmNlYzVlZGI5MDkxYTAwZTdmNzZmYmM4OSJdIC50Yi1idXR0b25fX2ljb24geyBmb250LWZhbWlseTogZGFzaGljb25zO21hcmdpbi1yaWdodDogNXB4OyB9IC50Yi1idXR0b25bZGF0YS10b29sc2V0LWJsb2Nrcy1idXR0b249ImU1ZDBjMGFmY2VjNWVkYjkwOTFhMDBlN2Y3NmZiYzg5Il0gLnRiLWJ1dHRvbl9faWNvbjo6YmVmb3JlIHsgY29udGVudDogJ1xmNTA4JzsgfSAudGItZmllbGRbZGF0YS10b29sc2V0LWJsb2Nrcy1maWVsZD0iZTk1NDE4ZjgxYmZmMjFjMzQ1OTZkYjY2MjhmNDVlYjIiXSBhIHsgdGV4dC1kZWNvcmF0aW9uOiBub25lOyB9ICBbZGF0YS10b29sc2V0LWJsb2Nrcy1pbWFnZT0iZjI5MTJiODMzZDM1MjEzYmNiOGM3MzhlZGMwZjU5ZTciXSB7IG1heC13aWR0aDogMTAwJTsgfSAudGItZmllbGRzLWFuZC10ZXh0W2RhdGEtdG9vbHNldC1ibG9ja3MtZmllbGRzLWFuZC10ZXh0PSI4YmFhZjBmOTZlZGYzMzJkZTg4MmRmZDIzNDVkZjYzMiJdIHsgbWFyZ2luLXRvcDogMDtwYWRkaW5nLXRvcDogMDsgfSBAbWVkaWEgb25seSBzY3JlZW4gYW5kIChtYXgtd2lkdGg6IDc4MXB4KSB7IC50Yi1maWVsZFtkYXRhLXRvb2xzZXQtYmxvY2tzLWZpZWxkPSJlOTU0MThmODFiZmYyMWMzNDU5NmRiNjYyOGY0NWViMiJdIGEgeyB0ZXh0LWRlY29yYXRpb246IG5vbmU7IH0gICB9IEBtZWRpYSBvbmx5IHNjcmVlbiBhbmQgKG1heC13aWR0aDogNTk5cHgpIHsgLnRiLWZpZWxkW2RhdGEtdG9vbHNldC1ibG9ja3MtZmllbGQ9ImU5NTQxOGY4MWJmZjIxYzM0NTk2ZGI2NjI4ZjQ1ZWIyIl0gYSB7IHRleHQtZGVjb3JhdGlvbjogbm9uZTsgfSAgIH0g
Like many others shattered over the past 16 tumultuous months, there was the Highlands-Cashiers Players calendar.
They were in the middle of their 25th season when Covid struck in the spring of 2020.
The usual seasonal schedule has been disrupted by the pandemic, and the March 2020 dinner theater and May 2020 Agatha Christie play have been canceled, as have the fall 2020 and spring 2021 performances.
Craig Eister, a HCP board member, had been watching things from the start and, with the full approval of the board, was determined to start over with their first show in almost two years. On October 14-17 and 21-24, performances of an original play, written by Eister.
Six years ago Craig moved to Highlands.
He had long aspired to try out community theater and was welcomed into the community "with open arms".
Eister says that the idea for the play, called The great pandemic – a mysterious musical love story, came to him as "we were trying to figure out what kind of game should debut after the long hiatus."
He realized he could write a play that combined all of the suggested themes – a love story, a musical, and a mystery in one piece. Eister spent three months writing during the shutdown.
"When the ideas started to come to me, I was walking down the street, something hit me, and I had to stop and write them down. "
Craig built on his long-standing commitment to diversity and inclusion issues; the notion "that everyone matters".
Still, he manages to tackle these themes in a playful way, producing a piece that is both upbeat and light at the same time.
For example, there's a scene where he's doing a funny take on a Zoom call.
"It's a way to commemorate this piece of history, to represent this moment in time and to have fun with it."
There's even a scene with performer Cher. Music and lyrics were composed by Eister in collaboration with Les Scott, director of music at Highlands United Methodist Church.
At the time of writing, the all-volunteer troop has been chosen.
Talented actors include former artists David Spivey, Robin Phillips, Elizabeth Gordon, Michael Lanzilotta, Jamie Thomas and Randy Lucas, minister of the United Methodist Church in the Highlands. The play also features promising local talent Mandy Houston, Gardner Davis, Alan Neely, and Rachel Mattingly. The two-act play will be staged in an intimate cabaret with tables for two and wine will be available.
For more information on HCP and its performance, visit highlandsperformingarts.com/hcp.