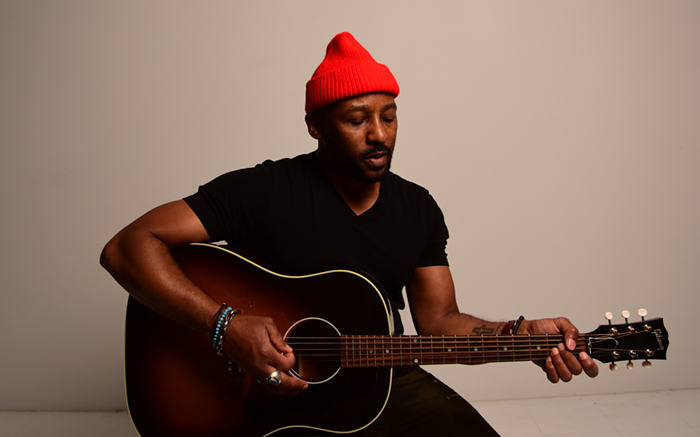 [ad_1]
Redray Frazier is just one of Portland's 100+ Headlining Acts of Music Month. Redray Frazier
Portland Music Month is a new effort by local nonprofit Portland Music to kick off the musical new year, create resources for independent musicians, and bring live music fans back to the city's charming historic (and new) venues. The festival offers an impressive lineup of over 100 acts over 31 days, with one of the main goals being to raise money for the Portland artist community in the form of its Independent Musicians Empowerment Scholarship, designed to help independent artists pay for a long list of necessities such as studio time, producer work, touring funds, merchandise, and more.
With a multitude of shows in the distinguished halls of various sizes of Portland: Polaris Hall, Kelly's Olympian, Crystal Ballroom, The Old Church, The 1905, White Eagle, Alberta Street Pub, Mississippi Studios, Star Theater, Dante's, Doug Fir, Holocene , Mississippi Pizza & Atlantis Lounge and Stage 722 – $ 1 from each show will go towards the aforementioned grant. Attending any of the shows listed, posting recaps, or using the hashtag #PDXMM also allows you to enter a raffle to win some shit, like amps, hi-fi earplugs, gift certificates for 5 star guitars, and more. Consult the complete list of shows hosted by local bookers, and read on to hear about the first show in the lineup, which features loyal artist Redray Frazier this Tuesday.
Redray Frazier & Ezra Holbrook
(Tuesday January 4, Alberta Street Pub)
Portland-based singer-songwriter / musician Redray Frazier is one of those seasoned artists that our city is fortunate enough to be able to boast about and to see regularly live.
As the son of a Baptist minister and a classically trained singer, Frazier made his musical debut singing gospel in a New Jersey church choir. In 1989, Frazier really started to cut his teeth professionally by joining pop / R & B duo The Brat Pack, and years later, quartet The Funky Poets. Since then, Frazier has acquired much bigger looks, playing guitar in David Byrne's touring band and opening for artists such as Blues Traveler, as well as the great Lenny Kravitz.
In 2015, the singer-songwriter released a funky and soulful six-track EP, Blood in the water, featuring standout songs like its title track, the rock "Follow Me", the epic soul of "Ain't No Way" and the soulful guitar solo on the dark track "Like Rain". After that, the artist took a five-year recording hiatus, but continued to perform at various clubs around Portland and beyond. Frazier has created a sound that often pays homage to 60s and 70s R&B, while infusing elements of rock and hip-hop. The artist's voice tends to be somewhat low-key but elegant, edgy and sometimes reminiscent of Lenny Kravitz.
Last spring, Frazier released his longest-running first single, titled "Better man." Written while traveling and was unable to connect with his romantic partner, the new single is a love song recorded with the highly accomplished musician / producer / brother Paul Frazier. The track also includes an additional guitar by Marlon Graves, collaborator of Cher and Herbie Hancock. Of course, the song signals an upcoming project by Frazier (who is currently unnamed), and seeing the artist live provides a delicious opportunity to get a taste of some of the other unreleased tracks. Watch the video for "Better Man":
While it's not uncommon for the smoky, roots-voiced singer to perform at the Alberta Street Pub, this particular show will see Frazier headlining a super solid Bill, while also performing alongside a multi-instrumentalist / transplant from LA to Portland Ezra Holbrook from the In Music We Trust label. (The two artists are actually quite familiar Play together at the Alberta Street Pub too.) In support of the bill, an excellent American rock / blues singer Sarah the King, and moving songwriter Luminous raven (FKA Idea the Artist). And remember, $ 1 from each ticket will go directly to Music Portland's Musicians Empowerment Grant for Portland area artists. Tickets are only available at the door.
Tuesday, Jan. 4, 6 p.m., Alberta Street Pub, 1036 NE Alberta, $ 15
---
[ad_2]